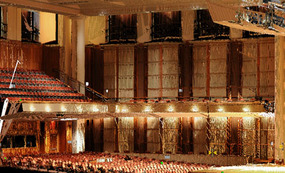 From a seashell to auditorium, laser-scanning can capture the objects and spaces we inhabit and convert them into a digital model. The IDIA scans a range of small or large scale 3D objects using facilities and equipment shared with the SimLab in the College of Architecture and Planning and supported by the Office of Information Technology. Three-dimensional geometry is captured in terms of millions of points that outline the scanned object. These points are converted into polygons to be used in the resulting animation workflow.
In 2009, the IDIA Immersion Seminar in Virtual Worlds worked to simulate the original settings of several sculptures in the collection of the Ball State University Museum of Art. Students where trained professionally to use the ZCorp 3D laser scanner using archival museum methods.
This project has allowed Ball State students to obtain skills in 3D scanning by learning the methodology, techniques and limitations involved with accurate scanning procedures. The museum scanning project was initially a way, to not only digitally archive select sculptures, but to place them in an live three-dimensional multi-user virtual environment that immerses viewers in a simulation of the works in their original context.
This significance of this project was to address the fact that pre-modern sculpture was typically originally designed to be an element in large-scale architectural, public or natural setting. IDIA developed a workflow that is now also a service that can be provided to external clients in the sciences, industry and the arts – employing emerging digital tools to illuminate a viewer's understanding of context.
FARO and Z Corporation's scanning technologies are used in applications such as reverse engineering, accident reconstruction, forensic science, historic preservation, entertainment and virtual simulation.