Chris Harrison CAP Lecture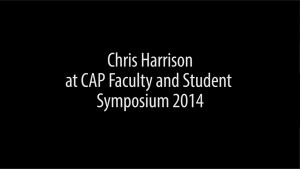 Chris Harrison gave a presentation during the annual CAP (College of Architecture and Planning) Faculty and Student Symposium about the use of quadcopter and drones for use in photogrammetry. Using a quadcopter and a GoPro Hero 3 camera, he was able to capture a subject and submit the workflow into Autodesk ReCap in order to get a virtual model out of it.
The video is located here on our YouTube.
-------------------------------------------------------------------------------------------------------------
-------------------------------------------------------------------------------------------------------------