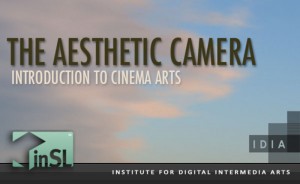 The Aesthetic Camera Project was designed to deliver digital cinema curriculum through Second Life – an online virtual world. This intensive research and development project was hatched through a partnership between the College of Fine Arts, the Center for Media Design, and Information Technology. Students learn the techniques of filmmaking in this 3D collaborative multi-user environment and are able to make virtual films using the project's equipment. Student designers and programmers worked with a team of local and global professionals from across the arts and sciences.
The one-credit course focuses on cinematography instruction in the physical world and virtual world where it is also known as "machinima" and while teaching cinematography techniques and allowing students to gain hands-on experience with equipment and resources that might not ordinarily be available to them. Within the virtual studio, they can check out cameras, dollies, light systems and more to create their own original movies. They can also film using avatars in costume in a wide variety of virtual set locations.
The project is set in an environment that stimulates creativity and interaction with fellow students and instructors. This environment includes virtual versions of all the necessary tools and some that do not exist in the real world, for example, a flexible shooting environment or holodeck.
The Institute has found measurable benefits for both instructors and researchers from this project that have included the development and retention of an expert research team centered around simulation, visualization and interaction.
Benefits for students include that distance education students can participate in communal learning and synchronous dialog with instructors and a peer group.
Most recently, the IDIA has earned a 2009 Institutional Excellence in Information Communications Technology Award from ACUTA, the Association for Information Communications Technology Professionals in Higher Education. The award recognizes IDIAA for its Aesthetic Camera filmmaking course and integrated Blackboard custom software, offered through the online world of Second Life.
News Items:
Greenhouse Grant for Virtual Worlds
Second Life Press Conference
IDIA Receives Institutional Excellence Award
IDIA presents to UCit Instructional Research Computing