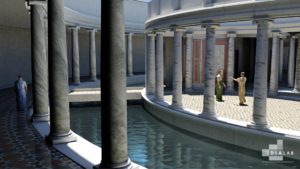 Always a great pleasure working with Bernie!
Bernard Frischer
We recently posted a UNITY webplayer of some of the core buildings at Hadrian's Villa. This can be used at no cost by people around the world who want to learn more about the villa or teach it to their students. The webplayer supports avatars, chatting, and can easily be used with Skype so that you can talk to your fellow avatars in world. We thank John Fillwalk and Ball State University's IDIA Lab for the great work in making the webplayer possible. We also thank the Andrew W. Mellon Foundation and the Indiana School of Informatics for providing the financial support that made this project possible.
You must open it in Mozilla Firefox. Before doing so, I'd urge you to look at the README file with instructions. You can find that file and the UNITY webplayer at:
http://vwhl.soic.indiana.edu/villa/3dmodelsdownloads.php
I'd love to know what you think and be able to observe you using it with your students and friends. So please keep me in the loop. Enjoy!
Hadrian's Villa – 3D Model Downloads
VWHL.SOIC.INDIANA.EDU