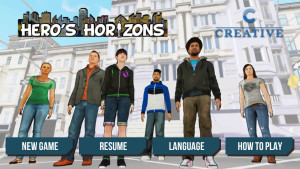 Hero's Horizons is a real-time 3D adventure game where players can choose a character that shapes the outcomes of their own experience in learning about civic responsibility and the consequences and impact of their own actions. The game employs a graphic novel esthetic as it immerses players in the conflict and progress of improving the health of an urban community.
In order to design an environment which allowed mission-based gameplay as well as free-roaming exploration, the team at Ball State University's IDIA lab employed Unity 3D alongside various modeling, animation, motion capture, scripting, painting and texturing packages to create the look and feel of the world. Characters came to life through cinematic and graphic novel techniques, allowing the story to flow as required by interactive missions, but yet allow free gameplay via exploration and mini-games. Players' good deeds provided mementos from those characters whose lives they helped shape and change.
Ball State University and Creative Associates have developed and disseminated a highly successful and transformative life skills curriculum to help at-risk youth in Central America and the Caribbean. But Creative Associates' life skills training has always happened face-to-face, making it difficult for organizations to scale it large enough to help the greatest number of at-risk youth. In 2013, Creative Associates and Ball State University joined forces to explore the possibilities of gaming and gamification to expand the reach and impact of the existing life skills curriculum. The result is Hero's Horizons – an innovative game-based learning system designed to deliver critical life skills training to at-risk youth via mobile devices and the Web.
Creative Associates International and Ball State University have combined expertise to create a truly blended-learning game for change targeted at youth living in high crime areas of Central America and the Caribbean.  By bringing together a mobile-ready graphic novel game – Hero's Horizons, built in Unity 3-D, and 20 interactive e-modules, Creative seeks to build the life skills of 10,000 youth living in gang affected communities. Youth can access the game and training through their mobile devices as well as in some of the 200 youth outreach centers Creative has set up across the region.
Hero's Horizons allows the player to customize a character, and then play the role of a young community organizer working in 4 sections of Capital City to help mobilize community youth and leaders to create a youth outreach center.  Along the way he/she encounters issues of apathy, political manipulation, and many issues facing at risk youth that he/she has the opportunity to make choices in how to respond to as he/she learns to overcome barriers at both the individual and community level.
The graphic novel game and accompanying e-modules help youth to advance their life skills in 20 competencies including conflict management, finding employment, and team work among others.  the game and the e-modules continually reinforce each other as part of a blended learning approach to long term retention.
Youth's achievements are rewarded both through achievement badges as they successfully complete tasks and levels, as well as in the e-module section where youth earn printable Certificates of Competency for completing modules and Mozilla badges for achieving learning paths.
The game is being rolled out and tested through Creative's network of 200 youth outreach centers in the region and other youth serving organizations to measure its effectiveness and further adapt it to the realities that youth in these communities face.
CAI
www.creativeassociatesinternational.com
Download Android game at Google Play
https://play.google.com/store/apps/details?id=org.idialab.LifeSkills&hl=en
[idia_gallery]
[/idia_gallery]