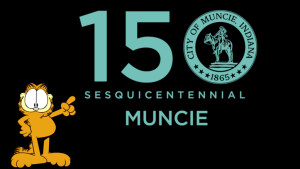 MUNCIE, Ind. — Ball State University's IDIA Lab in partnership with Paws, Inc. has created a special digital art event in honor of Muncie's sesquicentennial celebration. The multimedia event will take place during Muncie's ArtsWalk at 8 p.m., Oct. 1at the corner of East Charles and South Walnut streets in downtown Muncie.
Jim Davis' Garfield will virtually host the event, which will feature historical imagery and clips of Muncie mentions in pop culture. "We wanted to create something fun and tongue-in-cheek, but also positive and optimistic about the city's future," said John Fillwalk, director of IDIA and senior director of the university's Hybrid Design Technologies initiative.
"We were able to get a sneak peek at the community collaboration piece and I think ArtsWalk guests are in for a real treat," said Cherly Crowder, events coordinator for DWNTWN, the city's downtown development campaign. "John and his team are so creative, and their ability to take an idea from conception to completion has been awesome."
Other community partner for the digital art event include the Delaware County History Society, Muncie Arts and Culture Council, Center for Middletown Studies and Ball State University Libraries.
After the ArtsWalk premiere, Fillwalk said the piece will be made available to the public. "We consider it a work of community art. The more people who can view it and promote it for us, the better."
For more about ArtsWalk, visit www.downtownmuncie.org/artswalk