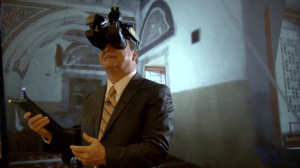 The future of home entertainment is taking a giant step forward into the world of virtual reality. More devices are hitting the market that transform the way we look at the world around us, and a group of developers at Ball State is on the cutting edge.
It's something we experienced first-hand at Ball State University, where they produce content for virtual reality devices at the Institute for Digital Intermedia Arts. The lab is located in the architecture building on the Ball State Campus, where the focus is on the exploration the arts, science and technology.
For the last ten years, Ball State has been developing a wide range of projects for museums, the History Channel and other clients.
John Fillwalk oversees the work done there.
"We basically explore 3D simulation and virtual reality," he explained. "The skill sets from the staff are across computer science to design to animation."
"We continue to further the emerging media brand aspect of this university, giving students professional opportunities to work and stay in Indiana for design technology jobs," said John Fillwalk.
The virtual reality industry estimates more than 7 million headsets will ship this year, even though researchers have found more than half of Americans have no interest in VR and don't know what it is. Developers foresee huge growth in the next six years as they develop virtual reality social media apps, combined with lower prices for the technology.
http://bit.ly/29JHJAl