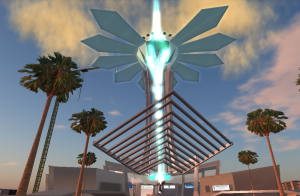 The Las Americas Virtual Design Studio is made possible through a collaboration between IDIA, the College of Architecture and Planning at Ball State University, the Las Americas Network, with the professional firm of BSA LifeStructures. The project linked 11 international Departments of Architecture, over 100 students and 11 faculty in this immersive collaboration environment. The students worked within their prospective studios under the direction of their local instructors. At the same time each student is assigned to an international virtual studio made out of students of different universities under the advisory of several virtual instructors. The roster of virtual instructors is made out of the instructors of all participating studios and a number of professional reviewers who do not have students at their particular location.
The LAVDS is a beacon that not only attracts visitors, but encourages interaction on multiple levels:  it is depicted an organic system – a radial configuration of pods or petals -spaces for small group use, and a large group meeting place at the center.  A tall mast-like element. The structure relied on configurable interfaces to facilitate large and small interactions. For instance, it could be set up for small critique or large group lecture sessions.
On November 10, the Las Americas Network held the international grand opening of its Virtual Design Studio. "The nature of the tower's architecture is specific to Second Life. There are no stairs, and dynamic pods and audio bubbles allow groups to meet together or 'fly' away to have private meetings," said dean of CAP Guillermo Vasquez de Velasco.
The project was created on a Second Life island at the Ball State University Instructional Campus. Some constraints designers faced were the 96′ x 96′ x 96′ cubic site, a limit to 40 avatars able to interact simultaneously, 15,000 geometrical primitives. The project required that it celebrate the spirit of the virtual design studio while leveraging technologies and capabilities for the interaction (work and play) of the participants of the LAVDS in ways that have not been possible outside of a virtual environment.
Links
Indianapolis Wish TV 8 Story
AIArchitect: Architecture in Second Life Is a World All Its Own
News Items:
Wish TV covers Las Americas project
AIArchitect: Architecture In Second Life Is a World All Its Own
Las Americas Finalist for 2009 Mira Award
Design Communication Conference Presentation