[idia_gallery]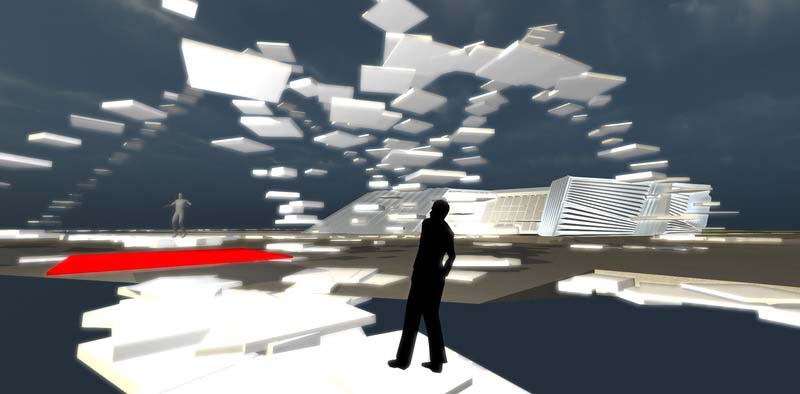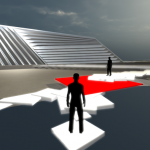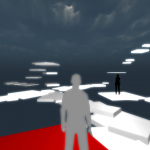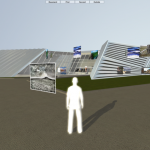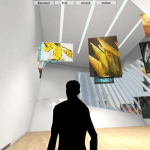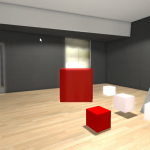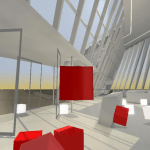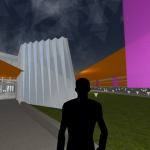 [/idia_gallery]
John Fillwalk and the Institute for Digital Intermedia Arts (IDIA Lab) at Ball State University were commissioned to design and build a virtual museum artworks for the Eli and Edythe Broad Art Museum in East Lansing, MI. The physical Museum, was designed by architect Zaha Hadid and opened to the public in Fall 2012. Museum Director, Michael Rush commissioned Fillwalk and IDIA Lab to envision and create a dynamic program of artworks for the Virtual Broad Art Museum project (VBAM). Fillwalk and his collaborators created an immersive multi-user environment and four commissioned artworks using Unity 3D – experienced entirely within a web browser.
"Engaging visitors with innovators at the leading edge of art and technology, both here at MSU and around the globe, is key to the Broad Art Museum's mission," said founding director Michael Rush. "With the Virtual Broad Art Museum, we have an opportunity to embrace the tremendous creative and connective possibilities that exist in the digital world."
The mixed world reception took place on Thursday, March 15th 2012 from 6:00 – 8:00 pm EST simultaneously on the campus of Michigan State University and in the VBAM virtual worlds.
Please visit the VBAM project links below.
http://idialabprojects.org/vbam/proxy.html
http://idialabprojects.org/vbam/flickrgettr.html
http://idialabprojects.org/vbam/survey.html
http://idialabprojects.org/vbam/confluence.html
VBAM Exhibitions by John Fillwalk
Participants in con|FLUENCE can create pathways based on reactions to both social and spatial relationships. There is a virtual response and persistence to interactions, as the routes are drawn and sculpted in the three-dimensional environment – forming nodes that are created via visitors' proximity.
con|FLUENCE. John Fillwalk. 2012.
Survey for VBAM is an immersive landscape simulation using real time weather data from the location of the Broad Art Museum in East Lansing, Michigan. Representations of surveyor's tape, flags, light, sky color, time of day, wind speed and even cloud density are driven by the actual physical weather forces – informing the virtual landscape.
Survey. John Fillwalk. 2012.
dis|PLACE is an interactive gesture-based performance that will be exhibited at the VBAM reception on the 15th of March. This installation links virtual space to physical reality in an exploration of agency and gesture. Employing a participant's movement, the work can both navigate 3D space – as well as control direct interactions with the digital performers via a Microsoft Kinect™ sensor.
dis|PLACE. John Fillwalk. 2012.
Proxy is a performative, interactive and site-specific virtual installation where participants shape the evolution of a sculptural and sonic composition as a response to the Museum. Interactions are painted, sculpted and sonified within this collaborative and evolving environment. The work progresses to construct in itself relation to the Museum – eventually transforming as integrated structure – reflecting and becoming its environment.
Proxy. John Fillwalk. 2012.
Flickr™ Gettr for VBAM connects the social image web service of Flickr™ to the virtual Museum environment, allowing visitors to create a dynamic cloud of spatial imagery by entering a search term of their choice – providing tagged images from Flickr™ into the Museum environment. The search term is spoken by the software and tags from image cloud are revealed allowing for subsequent user transformations of the spatial imagery.
Flickr Gettr. John Fillwalk. 2012.
Credits
Proxy.
John Fillwalk with
Neil Zehr, Michael James Olson
2012
Survey for VBAM
John Fillwalk with
Neil Zehr, Keith Kothman, Charles Estell
2012
Flickr Gettr for VBAM
John Fillwalk with
Jesse Allison, Neil Zehr, Charles Estell
2012
con|FLUENCE
John Fillwalk with
Neil Zehr
2012
dis|PLACE (exhibited at the reception on the 15th of March as a live performance only)
John Fillwalk with
Neil Zehr, Jonathan Strong
2012
Michael Rush, Director of the Broad Museum of Art, MSU
Adam Brown, Professor Intermedia and Electronic Art, MSU
John Fillwalk, Director of the Institute for Digital Intermedia Arts [IDIA Lab], BSU
Neil Zehr, IDIA Lab, BSU
Charles Estell, IDIA Lab, BSU
Michael James Olson, IDIA Lab, BSU
Ina-Marie Henning, IDIA Lab, BSU
Jonathan Strong, IDIA Lab, BSU
Jesse Allison, LSU
Keith Kothman, BSU
Jonathan Ross, BSU
Blake Boucher, BSU
Michael Davidson, MSU
Jayne Goedekke, MSU
Kyle Gomboy, Reaction Grid
Chris Hart, Reaction Grid
Special thank you to Neil Zehr, IDIA Lab, BSU