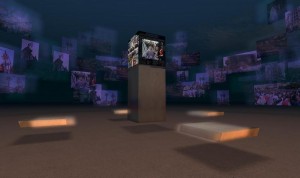 IDIA Lab's new Flickr Gettr launching soon – shared & mobile virtual world mashup artwork – preview Flickr pics here http://bit.ly/bCWQCL
Flickr Gettr: Shared and Mobile Media Mashup Artwork
Virtual World/Social Media Mashup: Flickr Gettr v4
The Institute for Digital Intermedia Arts (IDIA Lab) at Ball State University
IDIA Labs Flickr Gettr connects the social image repository of Flickr to virtual worlds and mobile devices through an interactive 3D and sonic experience – immersing the viewer in a dimensional cloud of user searched imagery and sound.
Background
Flickr Gettr in Second Life, leverages the new SL shared-media plugin architecture to provide rich spatially integrated web experiences. Participants query to search public image folders at the Flickr web-service. Queries then pull in related images from Flickr and feeds them back to be spatialized in an immersive visual and sonic environment.  As each image spawns, it generates a sound which parallels the environment of imagery that surrounds the viewer in their selected imagery and related tags that are spoken in synthesized voice.
Flickr Gettr positions virtual worlds as a platform to navigate media in the information metaverse. Virtual worlds have the potential to position the Internet as a three-dimensional information and communication platform where live data can flow in and out to visualize, contextualize, communicate, and to inspire.
In Flickr Gettr, an external web service was used as an intermediary to query Flickr, receive images and format them for delivery as a texture.  It then passed the aspect ratios and tags in a second query to be able to map the textures properly.  To make these interactions more flexible, the intermediary web server was employed to collate and prepare information to retain states that can be queried from external applications.  The web application effectively serves as an intermediary between the virtual world and outside environments, providing the communications link and logic to assimilate the information.  This can make the creation of Web 2.0 mash-ups much simpler as the code for doing these sorts of queries and logic is already highly developed in Java, Ruby, and Perl for example.  Flickr Gettr also triggered music files upon the rapid rezzing of objects to create a cumulative ambient effect.
In 2010, IDIA Lab was invited by the Indian Institute of Technology in Mumbai, India to to install Flickr Gettr at the their annual technology festival – the largest of its kind in Asia – which hosted more than 65,000 attendees.