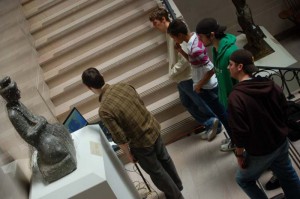 The IDIA Seminar's current project focuses on virtually recreating the original settings of various sculptures found throughout the Ball State University Museum of Art. The project focused on scanning five different sculptures using a 3D laser scanner.
This project has allowed Ball State students to get involved with 3D scanning by learning the method, techniques and limitations involved with accurate scanning procedures.
The museum scanning project was initially a way to not only digitally archive a few select sculptures, but to place them in an animated video to visualize the art in their original context, before they found their way to the Ball State Museum of Fine Arts.
Sculptures such as Adolph Alexander Weinman's "Descending Night" and "Rising Sun" originally were meant to be viewed at the Panama-Pacific International Exposition of 1915 in San Francisco. The students intend to visually replicate that scene along with how the artist framed them for viewing with the help of a  Zcorporation Zscanner 700 at a high resolution. Scanning typically takes the class around six hours (for a human sized sculpture). The ZScanner has the ability to scan any object in the tightest spaces and do it in real-time with one continuous scan.  Once the scan data is acquired, there are a large variety of mediums that it can be transferred to both digitally and physically. Students then place the models within an animation using AutoDesk Maya. A high-resolution viewer and interactive touch screens are also used to view the models. Students are also investigating a method of 3D prototyping the models to a smaller, more reproducible copy.
Links:
3D Scanner Technology